Have off track garage doors?
Our thorough repair process is designed to identify the causes of the problem and make speedy professional repairs. Call Door Pro of Hamilton County, North Georgia, and Cleveland TN for assistance.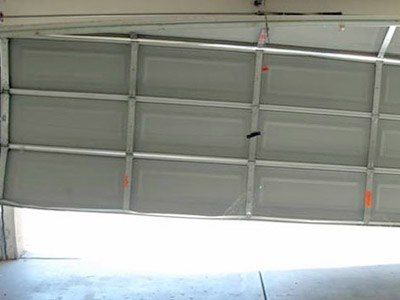 Opening and closing the garage door probably happens several times a day. You take it for granted that it will function when it's needed.
However, every once in awhile, you may run into a problem with your automatic garage door.
When this happens, call Door Pro of Hamilton County, North Georgia, and Cleveland TN for assistance.
Several things can cause a garage door to come off its tracks. Here are three of the most common:
The Cause
Broken springs. Over the years, wear and tear on your garage door may cause one or both of the torsion springs to break. As a result, if only one spring breaks, you may see a lopsided garage door that has fallen off its tracks.
Closing on an object. Although electronic eyes are typically standard equipment on automatic garage doors, every once in awile, a door may close onto an object under the door and cause damage if eyes are broken or not aligned. This type of damage can knock a door off its tracks.
Accidental force. Whether a car accidentally bumps into a garage door or you run into the door with a lawn tractor or other piece of equipment, this type of force can also damage the door and force it off track.
The Solutions
Door Pro is prepared to send qualified technicians out immediately to help with an off-track garage door.
Here is our process to help you get back on track:
Careful inspection.

Our trained professionals will examine the problem and provide the best solution. In some cases, this may be simply putting the door back on its tracks.
Repair suggestions.

If there is damage to the tracks, the rollers or the door itself, further repair may be needed. We may recommend maintenance steps such as cleaning and lubricating the tracks once the door is repaired.
Replacement options.

In severe cases, you may need to replace parts of your system or the door itself.
Safety check.

Before our technicians leave, they will provide a free safety inspection and suggest any other repairs or maintenance that should be completed to keep your door up and running long-term.
Your One-Stop
Garage Door Shop
PROFESSIONAL GARAGE DOOR SERVICE DONE RIGHT THE FIRST TIME!
Installation
In order to take full advantage of the safety features offered by the manufacturer, you must be sure to have the garage doors properly installed. Without a certified garage door installer handling the hanging and mounting of the doors and safety features, even the most well designed doors will not perform as they should.
Maintenance
Garage doors do a lot of work. Often, they open and close multiple times per day. Keeping them properly maintained will ensure that they continue to work smoothly, safely, and effectively. Maintaining your garage doors is about more than ensuring the light bulbs in the opener are still burning, the chain is still on, and the doors open and close.
Repairs
Garage door repair/service areas.
Replacement
Eventually, even the best garage door or opener will need to be replaced. When the time does come to replace a door or opener or a component of the door, you need the help of a professional.